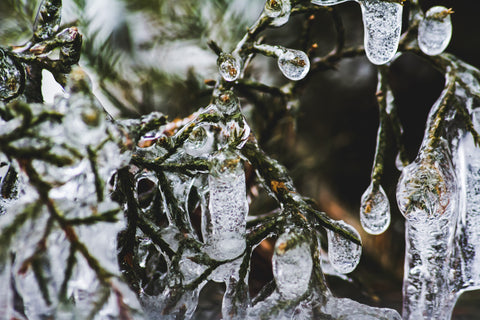 The Spirit of Renewal
"What good is the warmth of summer, without the cold of winter to give it sweetness"
— John Steinbeck
With winter no longer a distant prospect, I have pulled out my jumpers, my hats and gloves, and my hot water bottle. As we hunker down and avoid the foulest weather when we can, I try not to forget the benefits of braving the outdoors. Personally I find a walk through the wind and the rain quite cathartic, and as they say there's no such thing as bad weather, only inappropriate clothing. When we do venture out, it is worth remembering that for the most part, our faces remain exposed to the elements, and therefore we must find a way to protect our skin. At this time of the year I find that my skin demands richer, heavier oils to help withstand whatever the weather is up to. After the Rain, Menteaths Soothing Body Oil is ideal for me at the moment, with Dusk Wood Toning Face Oil my go to oil for restoring dry skin.
While in the warmer months we protect our skin from overexposure to the sunshine, the colder months bring different environmental conditions. We might avoid the ravages of the winter by hiding in our warm and central heated homes, but this too will have an effect on our skin. In the winter I find my skin feels dryer, and wants more nourishment and attention. Going from a warm and very dry indoor area to the cold and damp conditions outside where I live in Scotland (where it is also common to experience 4 seasons in a single morning), means my skin is having to acclimatise to very disparate conditions several times a day. I think of it in terms of going from a hot, skin dehydrating environment to a cold environment that can cause circulation to retreat from the surface of the skin as capillaries constrict to minimise the body's heat loss. Both extremes can negatively impact my skin, and I tackle these challenges simultaneously by using oils topically.
I got my first taste of Scottish winter last weekend while in the Highlands. We had to ascend 960m to the peak of Ben Lawers via Beinn Ghlas, Munros which stand at 1214m and 1103m respectively, to feel sleet and glimpse snow settling. The clouds we were surrounded by even parted on occasion onto commanding views in every direction. Before I left for our climb I made sure I was prepared for the terrain, and the climatic conditions. I had moisturising oils on my skin as well as water with me for the journey, among other precautions. And when we returned I had a warm shower and applied oils onto my skin as a light massage, which improved my circulation and helped relax my muscles.
I must be honest of course, not every difficulty with my winter skin can be blamed on my environment of course, the festivities impact my diet as gastronomic temptations and indulgences abound. Luckily there are plenty of foods that are traditionally celebratory, which are also excellent for skin and overall health. Spiced and seasoned nuts and seeds are excellent sources of magnesium, along with many other key nutrients which are important for the body's natural hyaluronan production. Otherwise known as Hyaluronic acid, this molecule helps support tissue hydration and cellular regeneration. Nutritious foods like sweet potatoes, fresh or dried fruit, leafy greens, (the usual balanced diet suspects) are all welcome additions on any festive table. And yes, brussels sprouts are fantastic for you, so find a recipe you love from a chef you trust and fall in love with them, if you haven't already. The key for me is to not overdo them, or any other green vegetables for that matter. The crunchier the better I say!